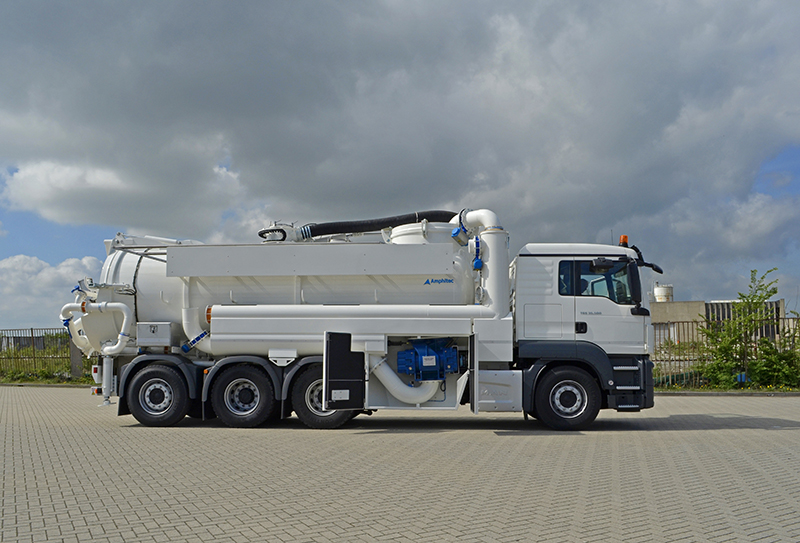 Amphitec Vortex
General
The Amphitec Vortex offers the best solution for vacuuming, blowing and transporting dry substances. Built on a three-axle, four-axle or five-axle chassis, this truck with many extra options can be fully adapted to the customer's requirements. The machine remains highly manoeuvrable thanks to its compact construction.
The Amphitec Vortex can be fitted with a closed filter chamber and is therefore suitable for sucking both wet and dry substances. Due to its large suction capacity (maximum 96% vacuum), the Vortex sucks up a wide variety of materials quickly and efficiently, including wet and dry substances, sludge and powders. Examples include the suction of soil, as well as, for example, the application of roof ballast. This makes the Amphitec Vortex highly versatile.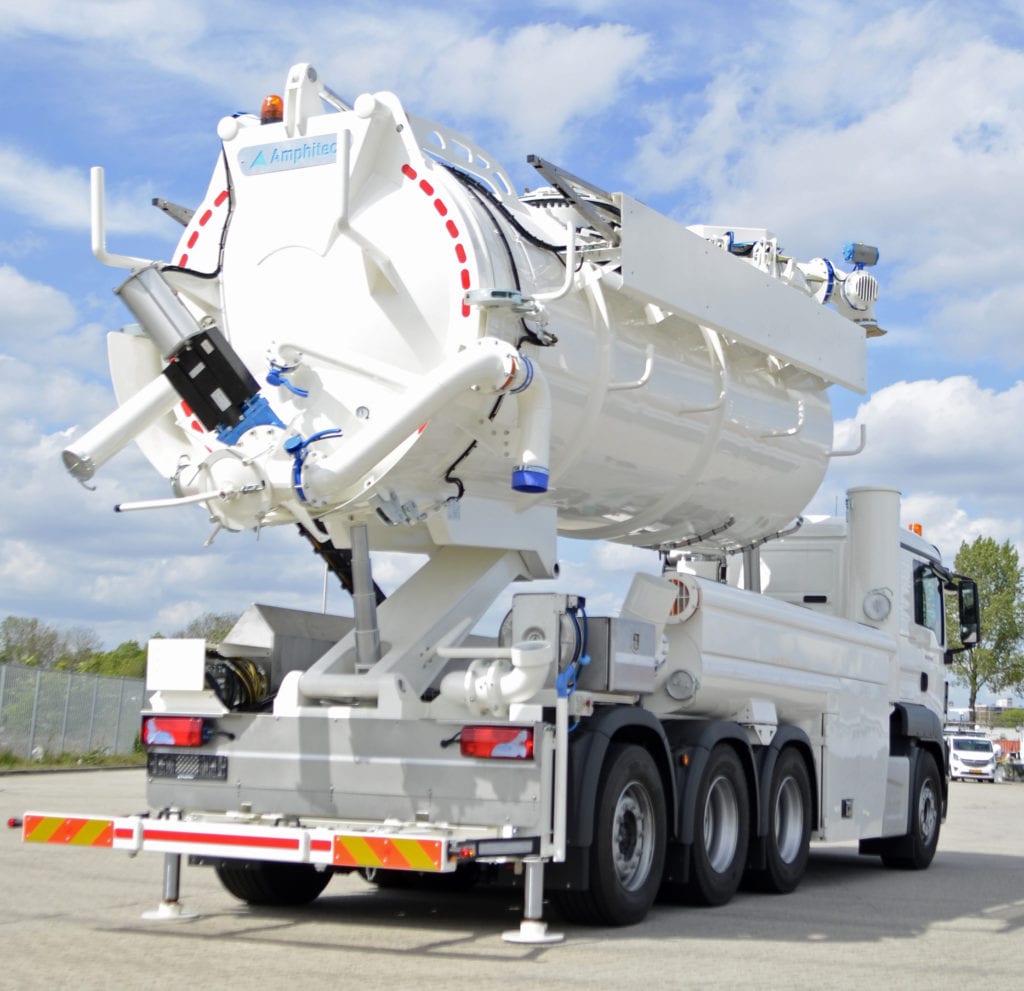 Features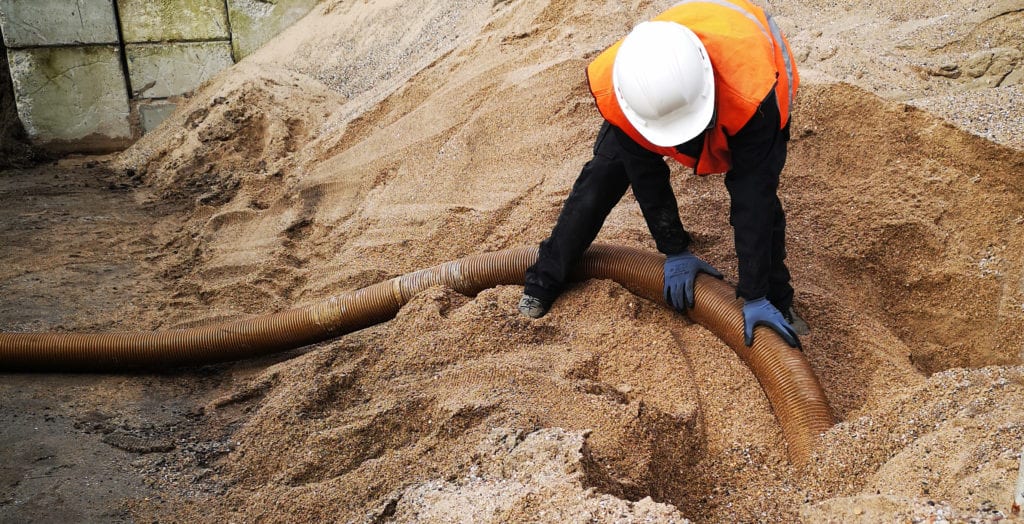 Suction at 300m + from machine
Sucking up materials at depths of 50m +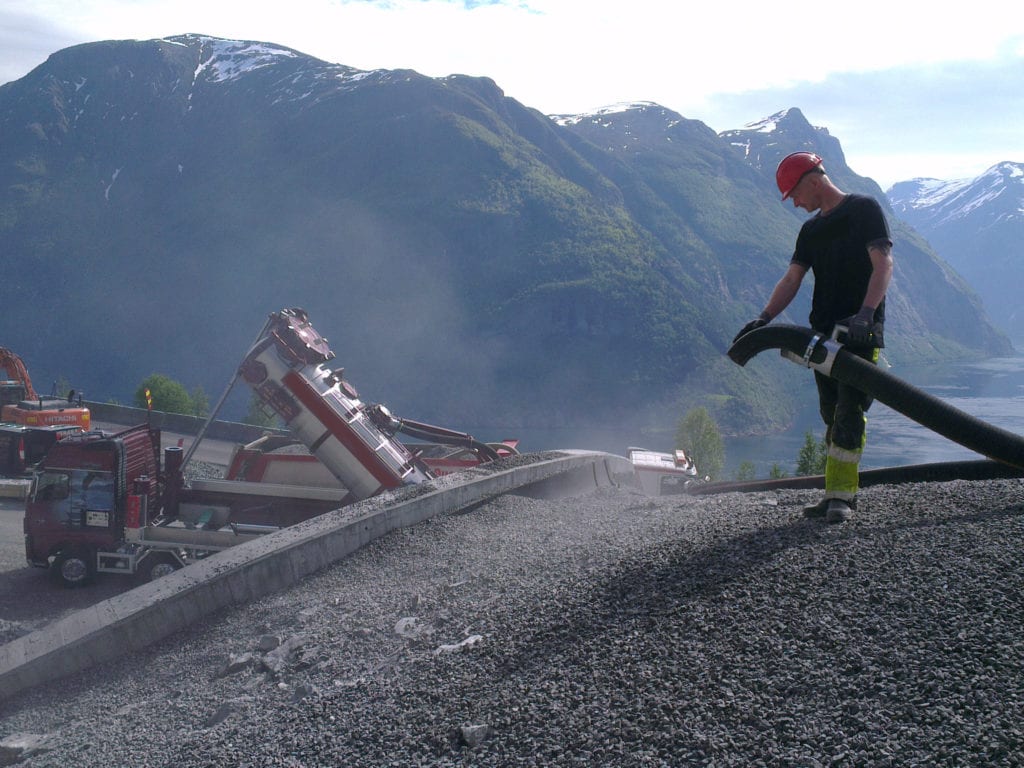 Blowing applications at 200m +
Blowing height 75m + (high buildings, silo's, etc.)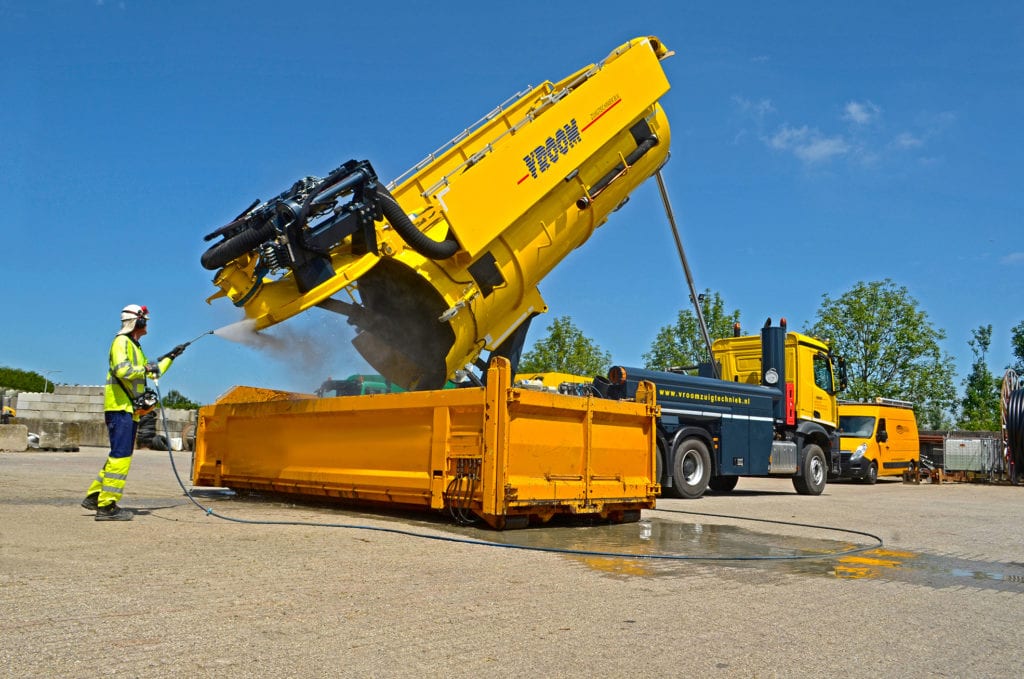 Save time discharging and cleaning the tank
Leave the dumpsite properly cleaned - contribute to traffic safety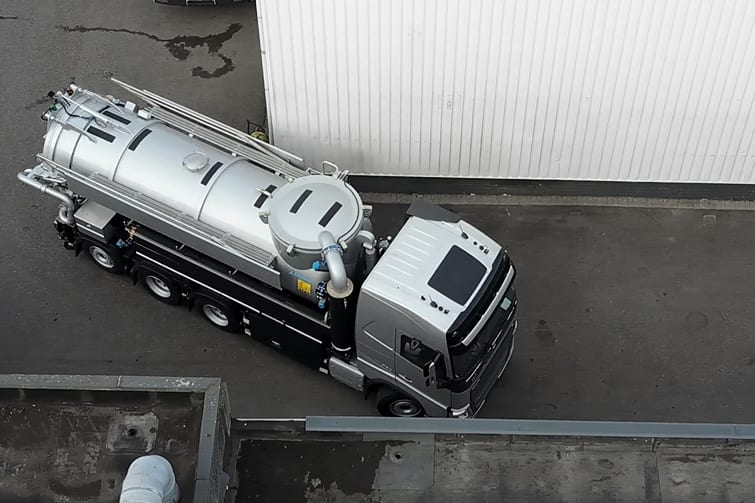 Reduce maneuvering time and maneuvering damages
Reduce discharge interruptions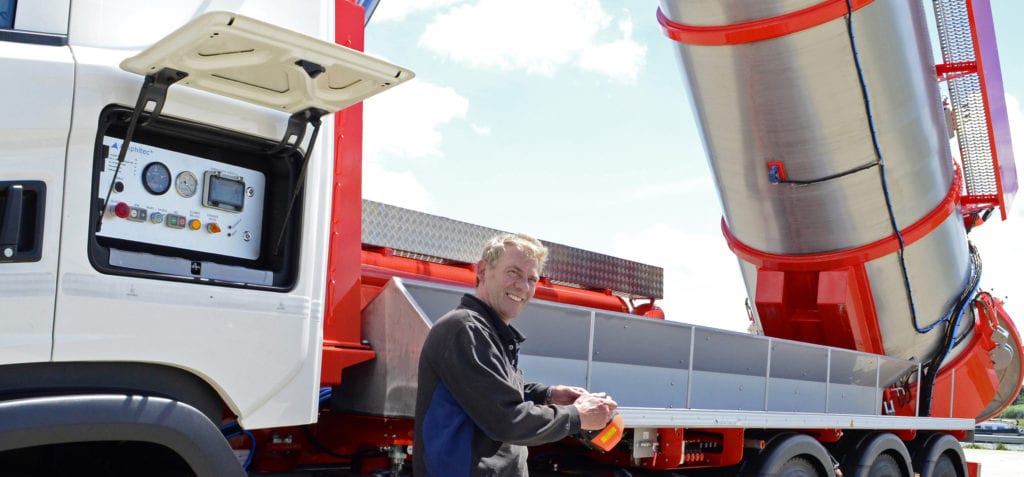 Technology made simple again
Safety as a result of ease of operation

Fast filling & discharging of the tank
Cover long vertical & horizontal hose distances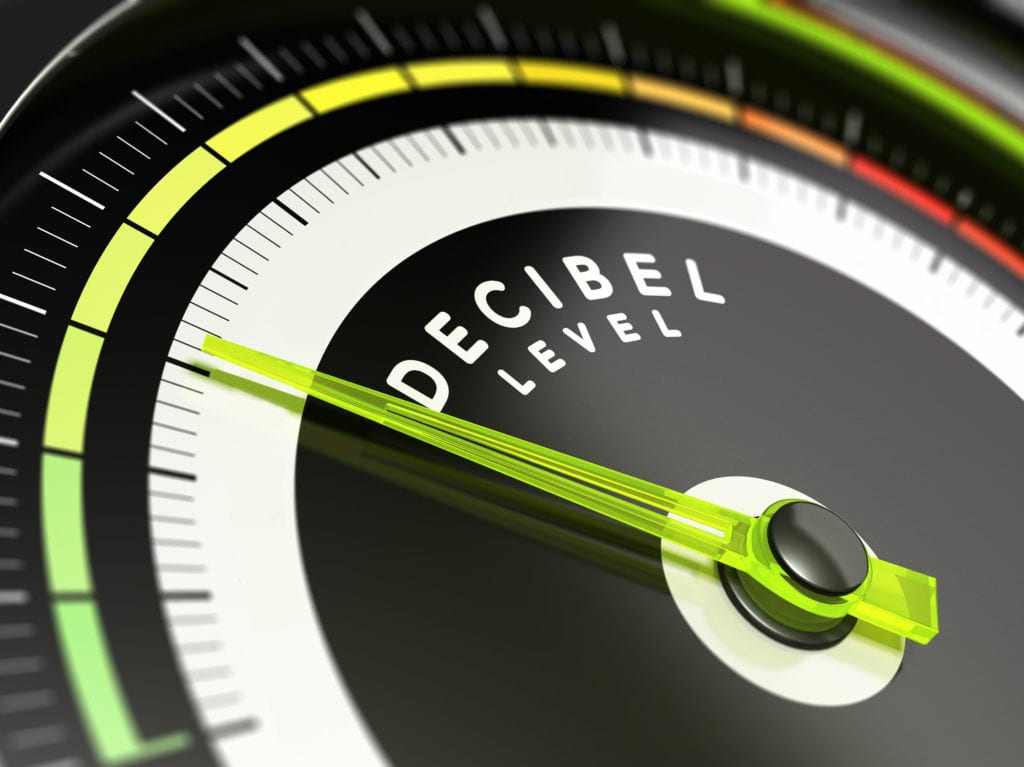 Minimal noise distribution (level below 80 dbA)
Beneficial for human and environment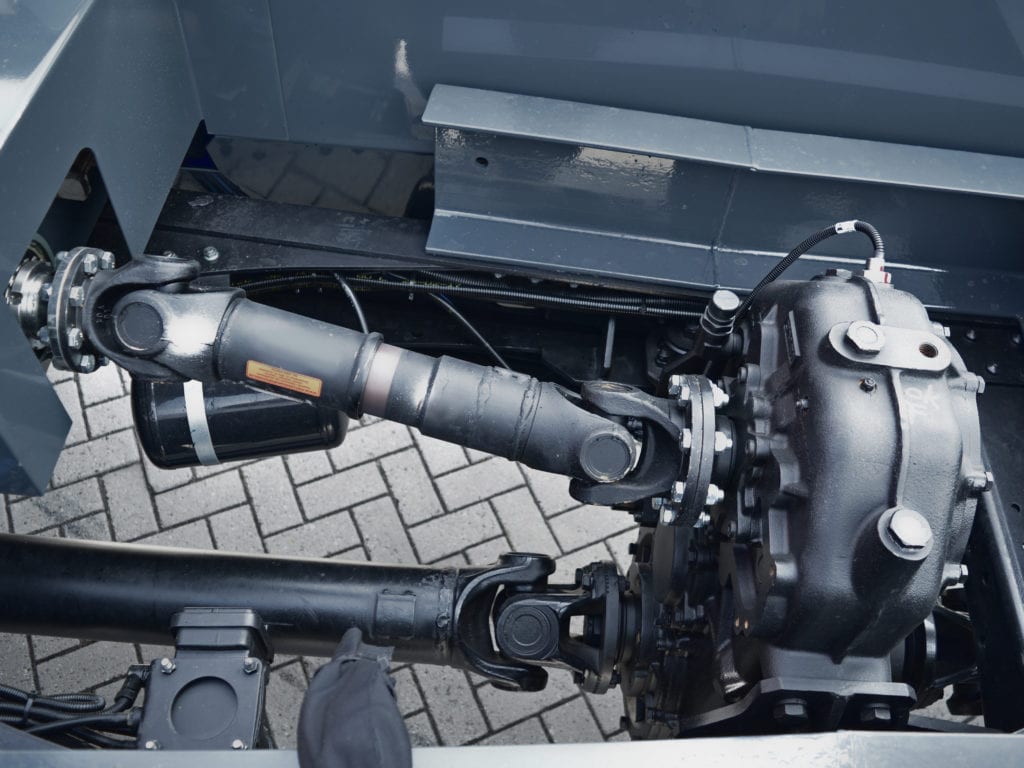 Save on fuel cost
Low engine emission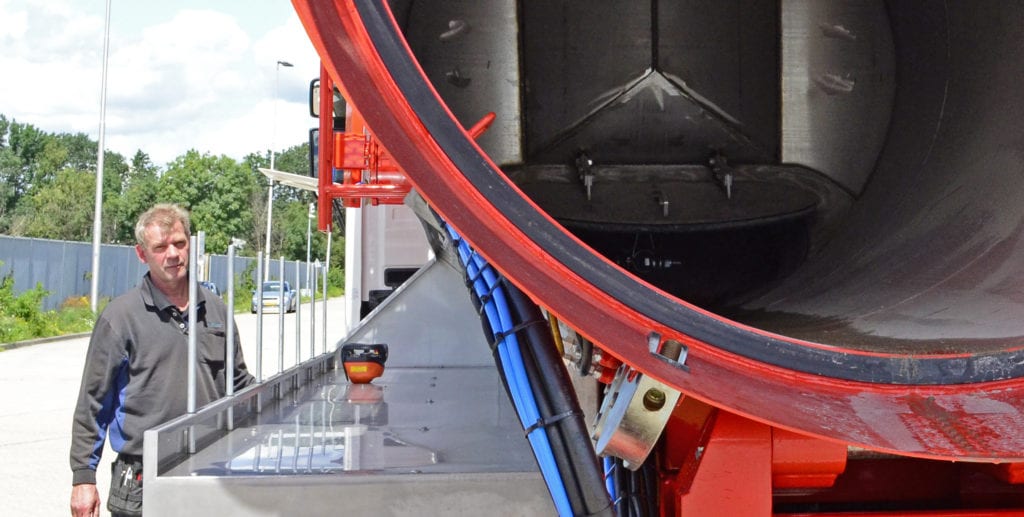 Filter hatch safely operated from outside product tank
Quick cleaning due to smooth interior design
Save time, fast filter exchange
Optimal particle separation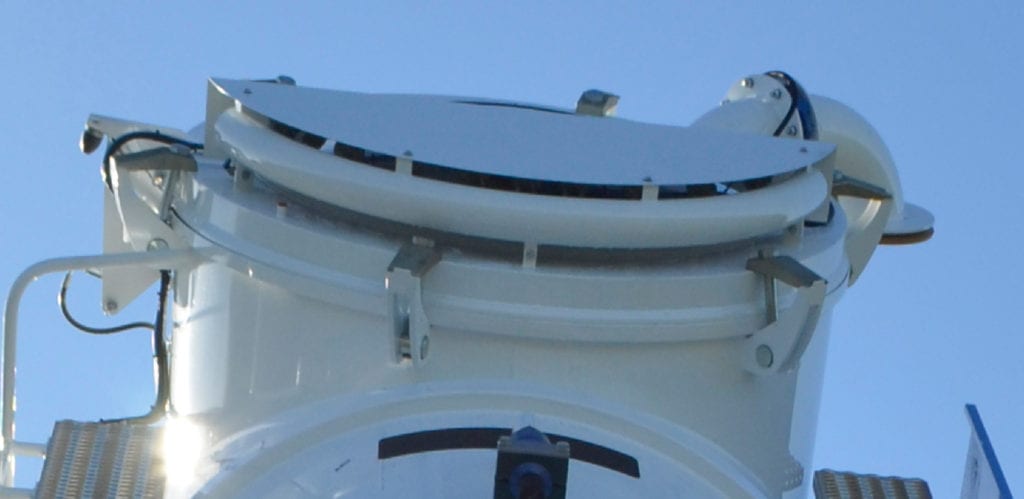 Suction performance remains high
Sustainable for the environment - no dust emission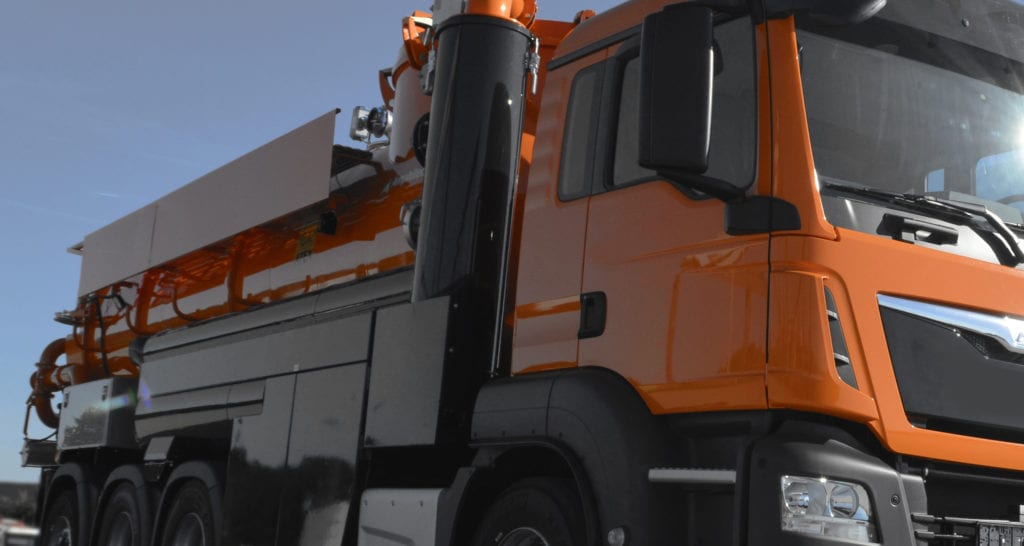 Emission reduction protects human & environment
Extension of pump lifetime
Main Options
Hi-Lift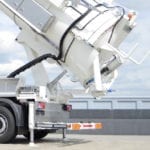 Equipping the Amphitec® Vortex with a Hi-Lift system permits for discharge of tank content in a number of ways. The system allows for tank discharge into big-bags, containers, drums or other storage facilities. 2 hydraulic stamps are foreseen on the back of the installation in order to stabalize the backside of the machine during tipping of the tank. Discharge in containers with a maximum height of approx. 1.800 mm, is possible. The extra weight of the Amphitec® Vortex equipped with Hi-Lift is approx. 700kg.
Industrial boom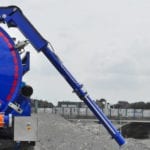 Amphitec 8" suction boom for the suction of materials. The boom is operated by a radio control system.The 3 hydraulic functions integrated to operate the boom:
– Movement up/down
– Rotating left/right
– Telescopic sliding part on end of suction boom 1000mm
Multipurpose boom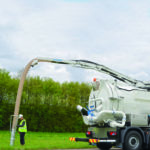 Amphitec Suction boom 8" with radio remote control. Hydraulically liftable 90°, bendable 90°, turnable 360°. The total height increases with approx. 250 mm and the weight increases with approx. 750 kg.
Amphitec® roots blower 11000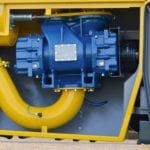 The Amphitec® roots blower 11000 model supplies airflow in both suction and blowing operation. This pump model is unique amongst all pump models as a result of a wide range of permissible pump speeds. Low speeds for  blowing of materials and higher permissible pump speeds for vacuum jobs. The roots blower supplies a theoretical maximum airflow of 11000 m3/h, which results in fast pickup of partials during suction. The deep vacuum capability (96% vacuum) of the Amphitec® roots blower 11000 allows for optimal pneumatic transport of products through the hose. In particular, this is required when sucking heavy product and sludges efficiently. Blowing of products is done with a maximum pressure of 1,0 bar and an airflow of 2500 m3 p/h.
Screw compressor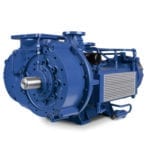 Installation of a screw compressor model 5500 instead of the standard Amphitec Roots Blower (Roots Blower withdrawn). The screw compressor supplies airflow for both suction and blowing operation. With a maximum of 2 bar of pressure, this pump is ideal for blowing works. Another important aspect is the high pump efficieny, resulting in low fuel consumption. The product tank working pressure is optimised to 2 bar.
Max. vacuum: 98%
Max. Pressure: + 2,0 bar
Max. Airflow: approx. 5500 m3/h
Max. Power: approx. 110 kW
HP pump
High pressure pump with a maximum waterflow of 50L/min and a maximum pressure of 120 bar.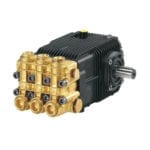 The installed industrial high pressure pump is driven by a hydraulic PTO (PTO to be ordered with truck). A manually operated hose storage reel is foreseen at the rear side of the chassis and is equipped with 20 meter ½ " high pressure hose. An air pressure connection is located next to the hose reel to be able to empty the hoses to prevent frost damage. The watertank is integrated in the front partition of the tank, content approx. 500L. This option is exclusively possible with a closed filter chamber configuration. The absorbed drive power of this HP pump is approx. 10kW. When desired other pumpconfigurations are possible.
Hose storage Hydraulic foldable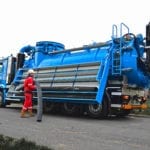 Hydraulic operated foldable hose storage comparments on both sides of the machine for the storage of hoses and pipes. Per storage compartment hoses can be stored on 4 levels.
Hammers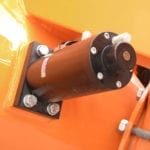 A set of 2 heavy pneumatic hammers mounted underneath the tank. 1 hammer mounted under the filter chamber and 1 in the middle of the product tank. The hammers are type FKL100. These hammers are very much suitable for the removal of adhesive material crusts on the tank wall and as bridge breaker of materials in the tank.
Discharge compressor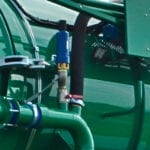 Discharge compressor, 165 m3/h, max. 2 bar.
The installed industrial compressor is driven by the hydraulic drive from the PTO mounted on the trucks engine. The high permissible maximum pressure of 2 bar allows the operator to even discharge high viscosity products out of the product tank without any problems. Including overpressure safety, set at 2 bar working pressure.
– Max. overpressure                2 bar
– Max. air volume                    approx. 165 m³/hr
– Max. required drive power approx. 8 kW
DN300 for bigbags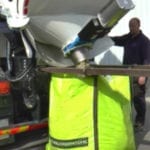 DN300 slide valve installed on the back door of the machine, for the discharge of free flowing material in big-bags and containers.
ATEX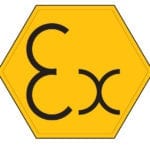 ATEX provisions and certificate in 1D, 2D and 3D is possible. Equipment is intended for use of suction from areas in which explosive atmospheres caused by air/dust mixtures are likely to occur. The means of protection relating to equipment in the various categories ensure the requisite level of protection, even in the event of frequently occurring disturbances or equipment faults which normally have to be taken into account.
ADR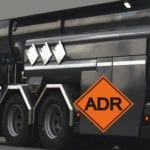 The machine is suitable for the suction and transport of ADR material of classes S4AH and L4AH (3 4.1, 5.1, 6.1, 6.2, 8 en 9). All required ADR provisions are applied.
SIR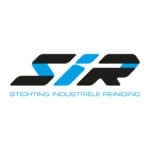 SIR Package – Industrial safety provisions installed on the machine according SIR guidelines. (SIR is the Dutch industrial safety authorization). The package is composed by a continues earthing monitor including green lamp, 2 hand operation for opening rear door + locks and a fall safety for the tank rear door. Inspection and certificate are included in the delivery.
Open filter chamber
Open configuration of the filter chamber which is suitable for suction of dry material only. The standard filter hatch is withdrawn in order to optimize loading volume and to facilitate easy cleaning of the filter chamber. The suction inlet is located on the left side of the machine and blows in vacuumed materials towards the tank rear side. Level swiches are excluded.
Blowing rear doors type G1 or G2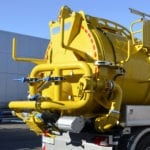 Installation of various blowing rear doors is possible. Standard the machine is supplied with a simplified blowing system. Optional is a blowing system with venturi tube, bypass and aeration ring for the efficient blowing of dry materials. This option is not available in combination with the suction excavation boom.
Additional stainless steel toolboxes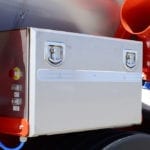 Installation of an additional stainless steel toolboxes is possible in various dimensions on a location of your choice provided that sufficient space is present.
3, 4 or 5 axle chassis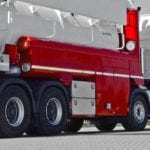 The Amphitec Vortex is available on a 3, 4 or 5 axle chassis, depending on the desired payload and vehicle maneuverability. The content of the product tank varies with 12m³, 15m³ or 19m³.
More information on this solution?