Amphitec V-Force
General
The Amphitec V-Force is specifically designed for suction, transporting and unloading of liquid and hazardous substances in the (heavy) industry. This robust machine operates gently with a 3200 m3 liquid ring vacuum pump, resulting in moderate operating temperatures. The mechanical level indicator wit a float ball warns timely which makes it possible to empty the hoses without spilling any fluids. The cyclone filter clears the airflow from any carried along residue which keeps the cooling system clean. Amphitec focusses in design on ease of operation and optimizing uptime. This was the basis for simplicity in design. The electrical system is based on a system of relays instead of a complex PLC, which makes fault finding and repairs quick and easy.
As a standard, the Amphitec V-Force comes with one rotary switch to operate the unit. This makes the unit unique in its ease of operation. The Amphitec V-Force can also be supplied in combination with a powerful high-pressure pump and a standard 4000 l. clean water tank for industrial cleaning. In order to work safely, the standard unit includes a foldable exhaust with a connection for the safe removal of extracted gases. This high-quality machine is built on a chassis and fully approved according to ADR standards.
The compact design of the unit creates an excellent manoeuvrability and with the lengthy hose storage compartments a lot of storage space is created.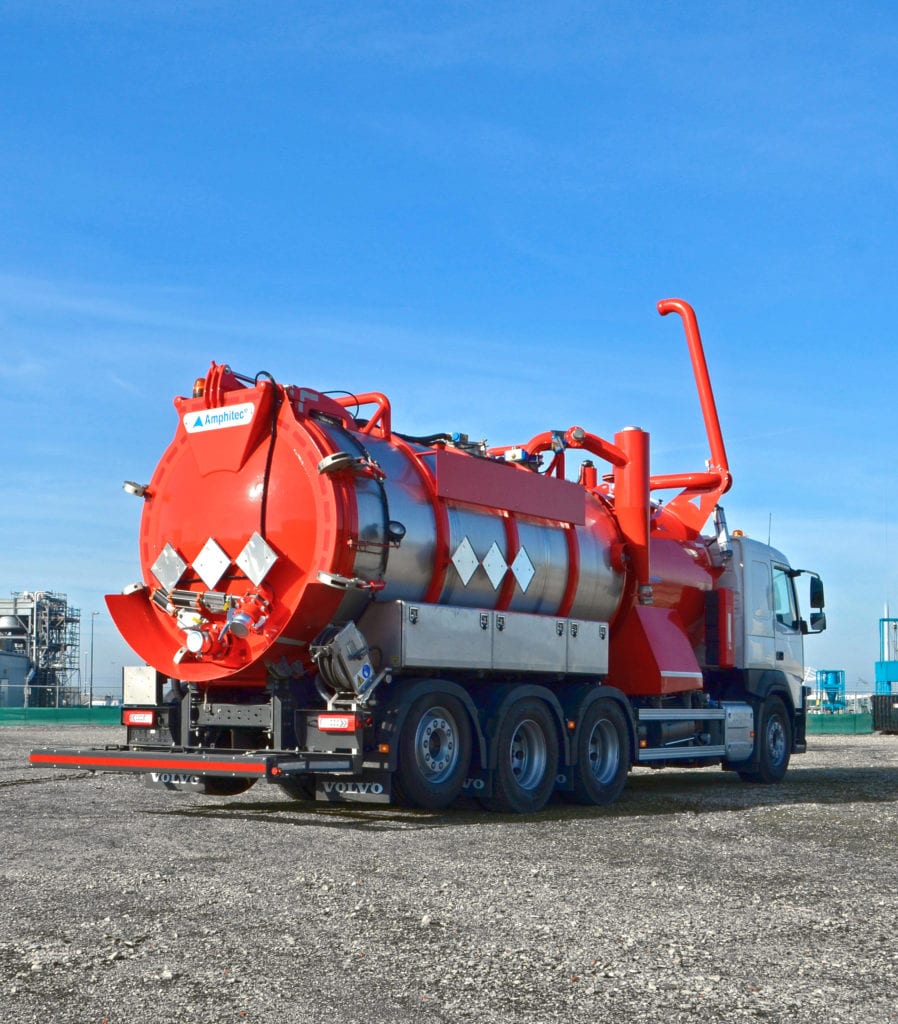 Features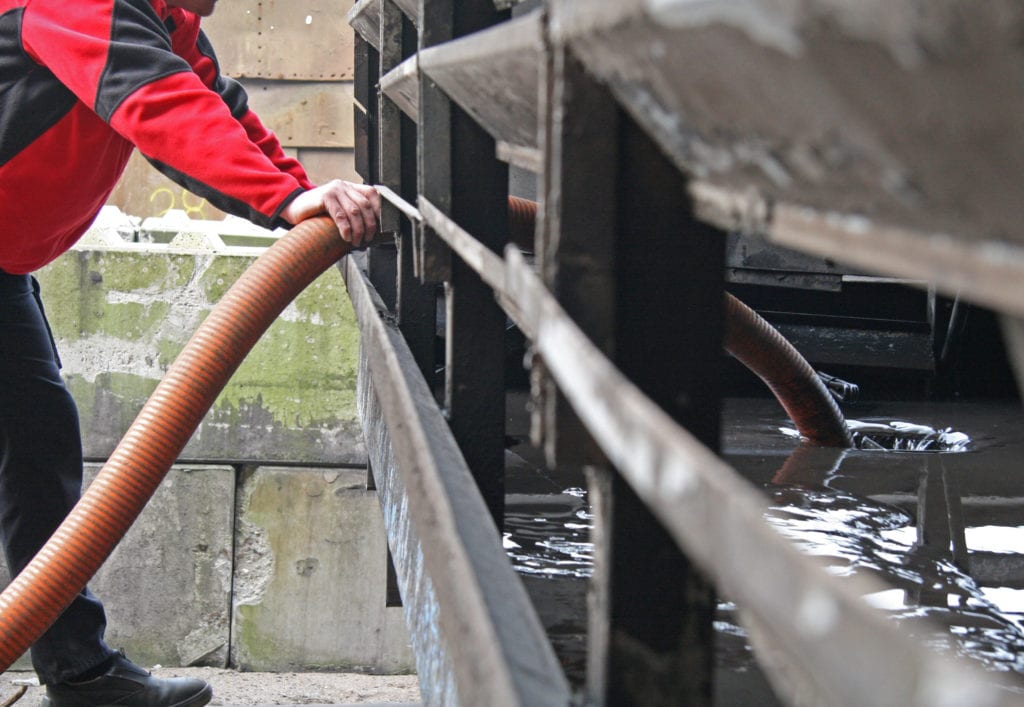 Easy suction of heavy sludges
Fast filling of the tank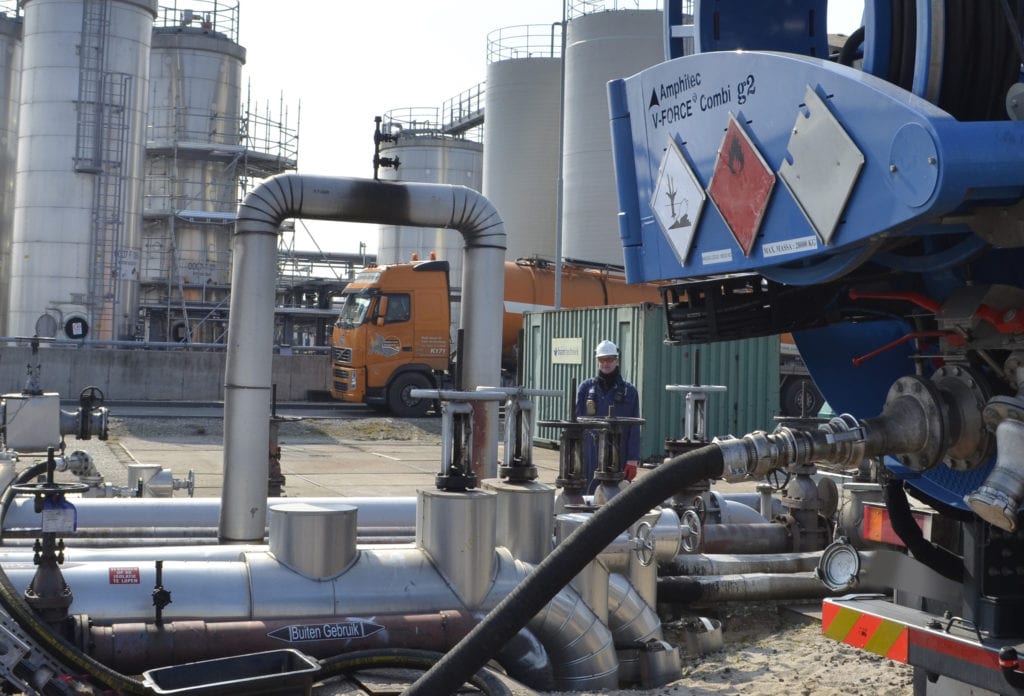 Discharge applications of over more than 200 meters
Discharge at a height of 20 meters (storage tanks etc.)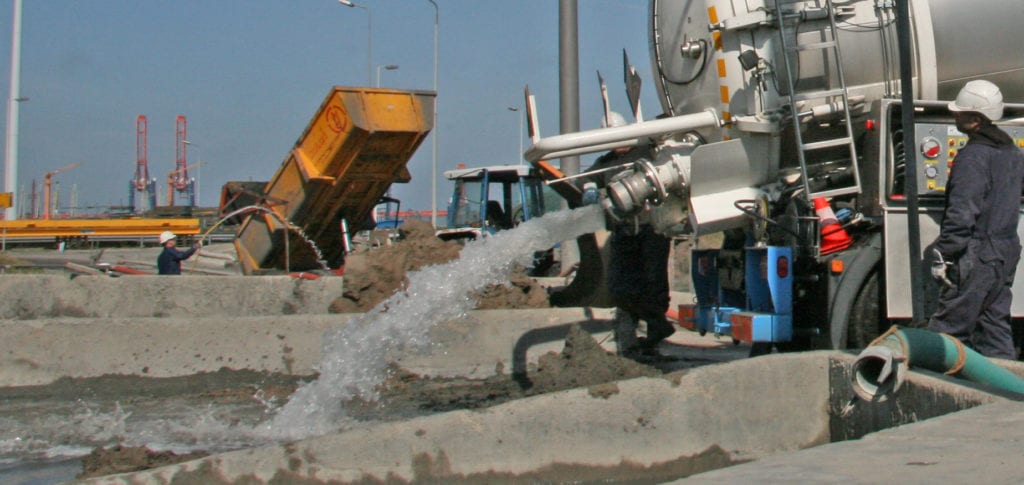 Save time discharging and cleaning the tank
Leave the dump site properly cleaned - contribute to traffic safety

Reduce maneuvering time and maneuvering damages
Reduce discharge interruptions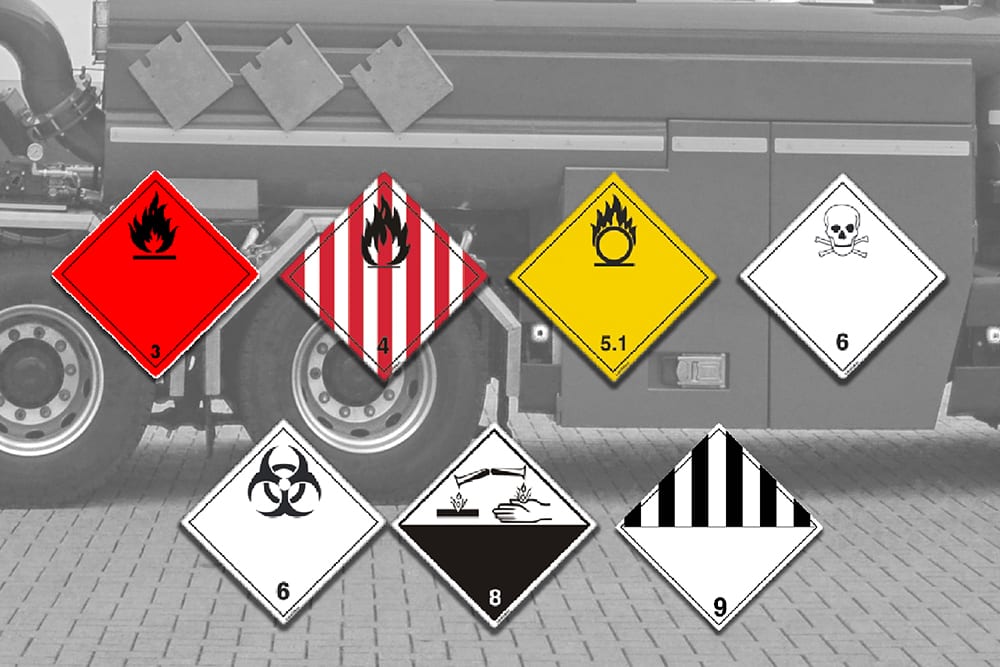 Save handling of hazardous liquids
Transport ADR products of class S4AH and L4AH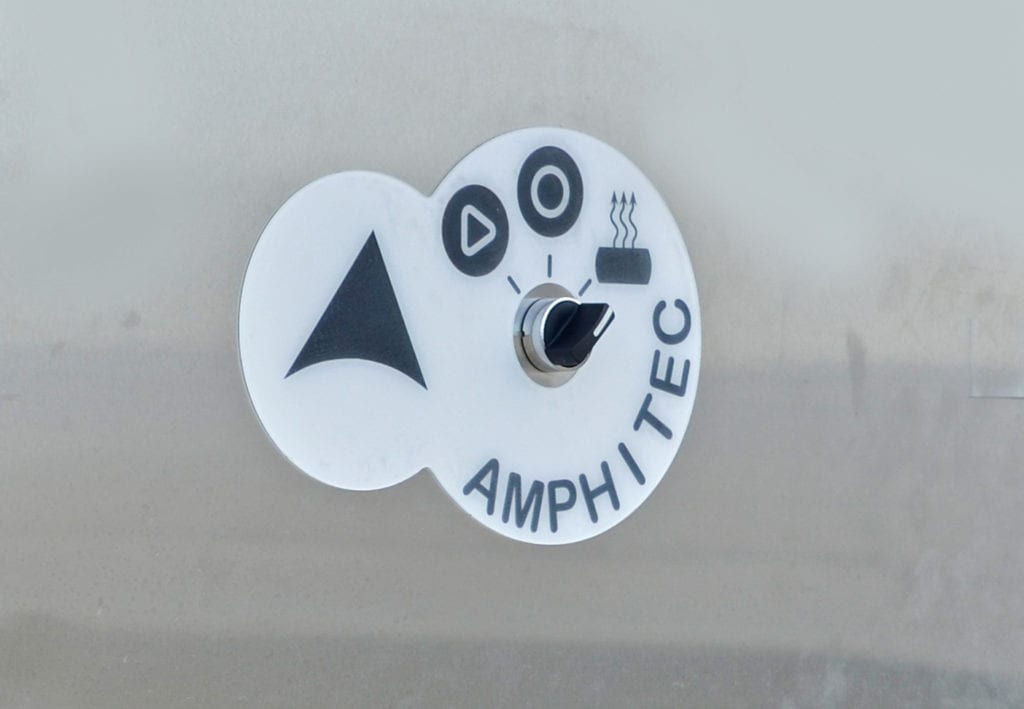 Technology made simple again
Safety as a result of ease of operation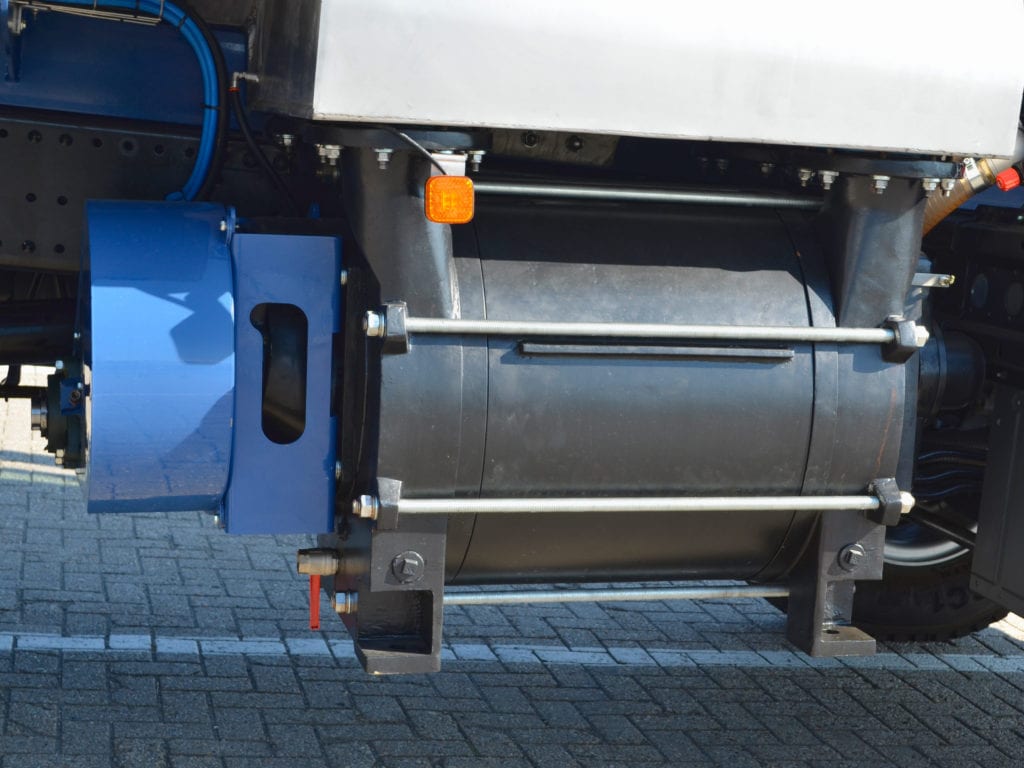 Liquid ring: save solution for handling ignitable liquids
Fast filling of the tank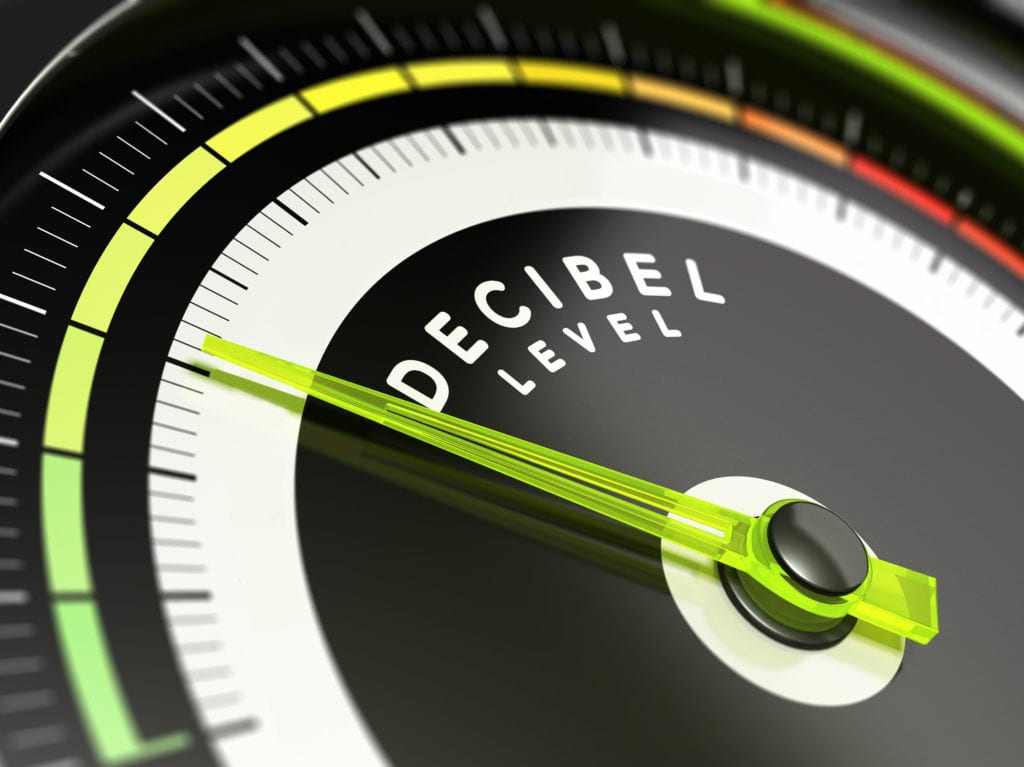 Minimal noise distribution (level below 80 dB)
Beneficial for human and environment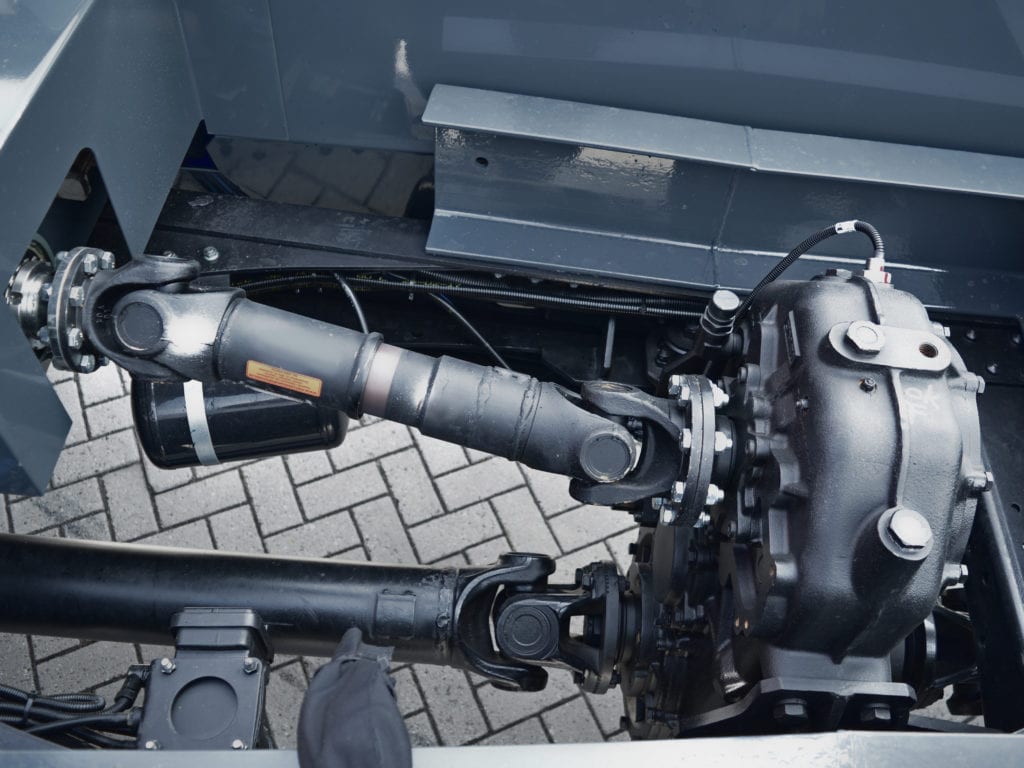 Save on fuel cost
Low engine emission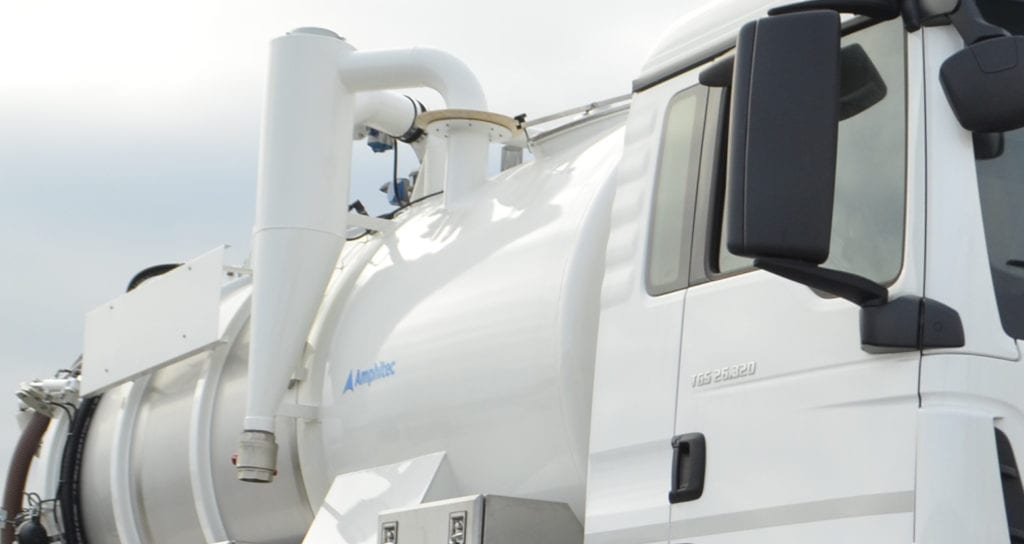 Collecting solid particles from airflow liquid ring Pump
Extended pump lifetime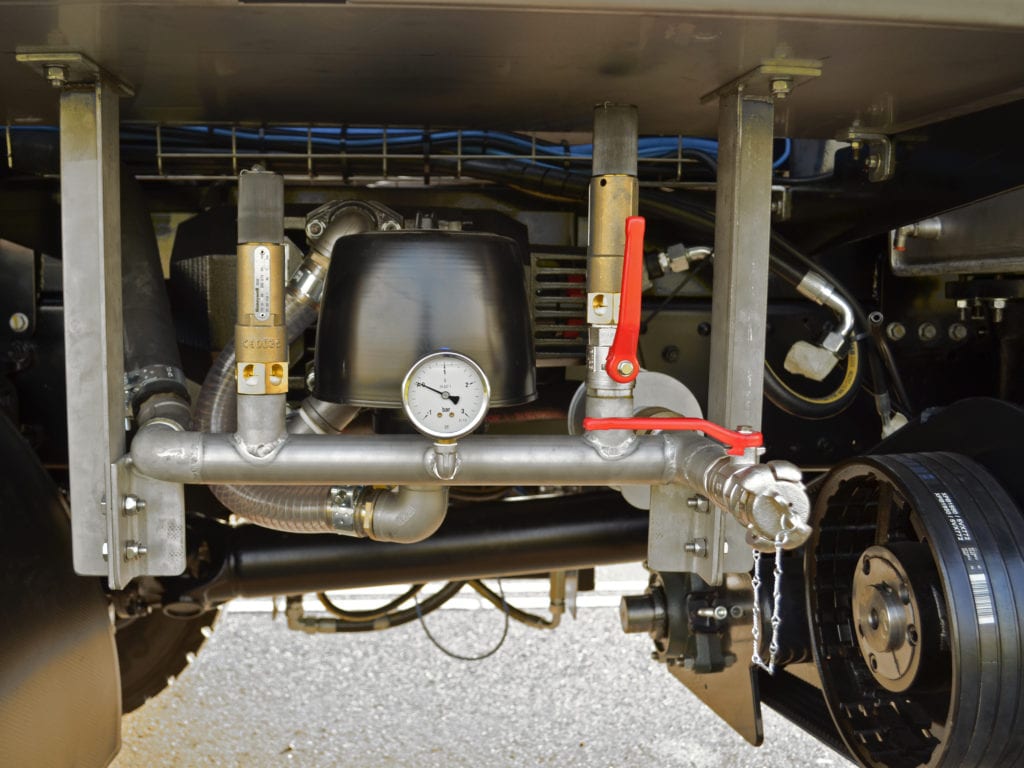 Quick discharge of high viscosity products
Discharge liquids up to 20 meters height
Main options
Saddlebag tanks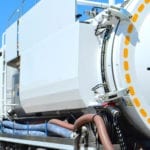 Saddlebag tanks are mounted to the sludge tank for increasing the flush water capacity. approx 2m³ additional volume. What results in a total volume of approx 6m³ flush water capacity. The tanks are made of stainless steel.
HP Pump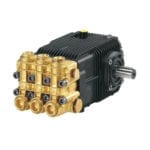 High pressure pump with a maximum waterflow of 50L/min and a maximum pressure of 120 bar.
The installed industrial high pressure pump is driven by a hydraulic PTO (PTO to be ordered with truck). A manually operated hose storage reel is foreseen at the rear side of the chassis and is equipped with 20 meter ½ " high pressure hose. An air pressure connection is located next to the hose reel to be able to empty the hoses to prevent frost damage. The watertank is integrated in the front partition of the tank, content approx. 500L. This option is exclusively possible with a closed filter chamber configuration. The absorbed drive power of this HP pump is approx. 10kW. When desired other pumpconfigurations are possible.
Liquid ring pump or roots blower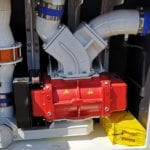 The Amphitec V-Force is standard equipped with a liquid ring pump. When desired it can also be equiped with a roots blower, which is less effected by extreme low or high outside termperatures.
Stuffing box packing seals or mechanical seals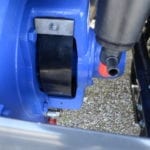 The liquid ring vacuum pump is equipped with stuffing box packing seals or mechanical seals to prevent excessive leakage of service liquid. These robust sealing methods are maintained in an economic way and therewith contributes to profitable machine operation.
ATEX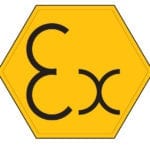 ATEX provisions and certificate in 1D, 2D and 3D is possible. Equipment is intended for use of suction from areas in which explosive atmospheres caused by air/dust mixtures are likely to occur. The means of protection relating to equipment in the various categories ensure the requisite level of protection, even in the event of frequently occurring disturbances or equipment faults which normally have to be taken into account.
SIR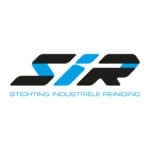 SIR Package – Industrial safety provisions installed on the machine according SIR guidelines. (SIR is the Dutch industrial safety authorization). The package is composed by a continues earthing monitor including green lamp, 2 hand operation for opening rear door + locks and a fall safety for the tank rear door. Inspection and certificate are included in the delivery.
Additional stainless steel toolboxes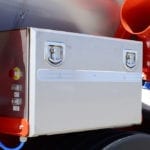 Installation of an additional stainless steel toolboxes is possible in various dimensions on a location of your choice provided that sufficient space is present.
Manually operated hose storage reel
A manually operated hose storage reel including spring return and rotating pivot is foreseen on the machine (location to be determined). Cleaning can be done using the HP gun with nozzle that is included in the delivery. An air pressure connection is located next to the hose reel to be able to empty the hoses and HP pump from water to prevent frost damage.
Pivotting Hose reel on rear door Hydraulic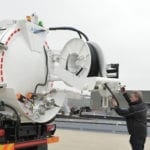 A hydraulic driven hose reel is installed on the tank rear door. The reel is installed with 120m high pressure hose and equipped with a swivel joint. Roll up & roll off the hose reel is done hydraulically. Pivotting the hose reel as well as hose guiding during operation is done manually. The hose reel pivots to the right hand side of the machine (truck driver seat perspective).
Slide valves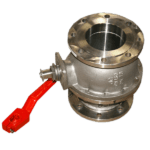 The standard mounted pneumatic slide valves on the rear door are withdrawn. Instead two DN150 ball valves with stainless steel ball and stainless steel housing are mounted, including a pneumatic locking system so that the ball valves are locked in accordance with ADR during transport.
3 or 4 axle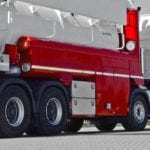 The Amphitec V-Force body is standard installed on a 3 axle chassis. When desired a 4 axle chassis and body is possible. The increased tank/body length allows for manufacturing a machine with a very high payload. The product tank volume will be 12m³ or 15m³.
Meer weten over deze oplossing?
Inzetbaar in:
Related products