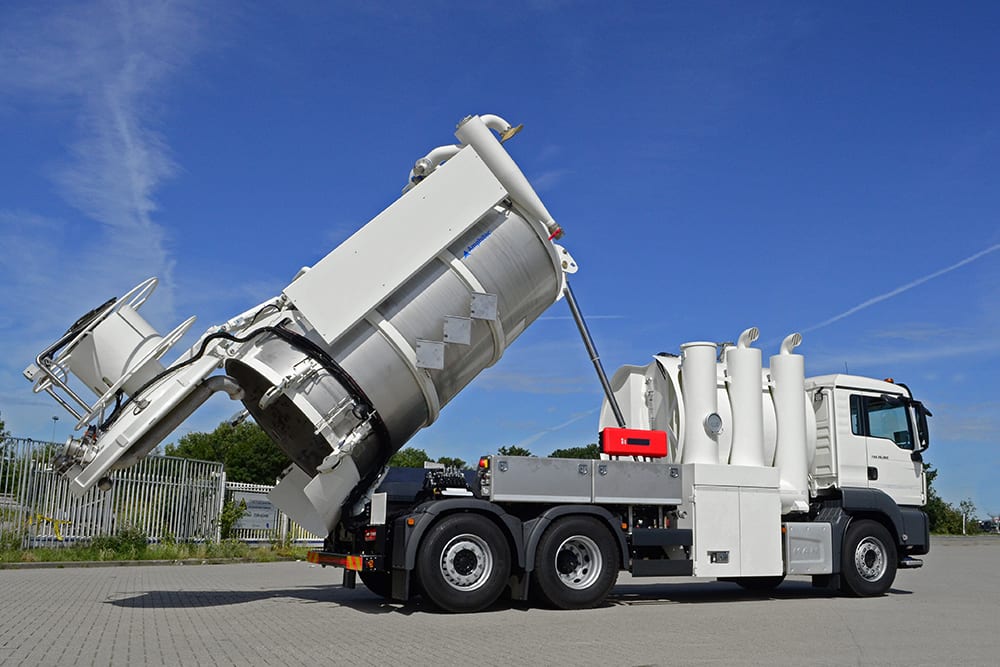 The ideal solution for the industrial cleaner
Cold working conditions
The ideal solution for the industrial cleaner
During the cold winter months, especially in Scandinavian countries, you may experience extreme working conditions, with an ambient temperature of below -10 degrees. Your vacuum activities often become quite a challenge. Especially if your equipment is running on water cooling.
When vacuuming liquids, a vacuum truck with a liquid ring pump is often used. Whilst the machine is operational, this pump must be cooled by cooling water to prevent overheating during work. When working below freezing point, there is a chance that this cooling water will freeze, even when you use glycol. The result is a pump shutdown. Amphitec saw it as a challenge to find an efficient solution for this.
The combination of 2 techniques
Amphitec has found a solution by combining 2 existing techniques, by equipping the Amphitec® V-Force with a roots blower pump. This creates a unique configuration, with an air-cooled pump. This makes the machine able to suck and clean liquids in cold climates.
To apply this configuration, the Amphitec has made adjustments to the Amphitec® V-Force design. The current filter technology for vacuuming dry materials, present on vacuum machines such as the Amphitec® Vortex, has been utilised for this. Here, a cyclone filter is used to purify the air supply from the tank. This "pre-separator" is directly connected to the tank. From there, the air flow is directed through a polyester needle filter to the pump.
Air-based pump cooling
There is a cooling air connection at the top of the pump. The pump with air silencer supplies cool air. The air is discharged through the pump via a blow-off silencer. This technique is also used in the construction of installations for vacuuming dry materials. The silence package is constructed vertically next to the spray water tank.
This allows the operator to perform his vacuuming activities continuously, promptly and efficiently even during the cold winter months.
Machine properties
The Amphitec® V-Force, like all Amphitec machines, is known for its ease of use. A major advantage that has also been implemented in this design. This configuration has the following properties:
A robust roots blower vacuum pump, 2400 m3 / hour
Sludge tank, 12 m3
Large spray water tank
4300 litres
Extra hose storage for 40 meters of 4 "hose on the rear cover
Hydraulically driven hose reel including 80 meters of 3/8 " hose
High pressure pump, 51 litres / 250 bar
Various additional/alternative options are available to suit your requirements, such as a PTO drive, extra hose storage and remote control for the hose reel (++ safe working on a distance).
The solution for Scandinavian climates
Amphitec will offer this machine in the future as the most optimal solution for industrial cleaning work during the cold winter months. Technical Manager Frank Kramer says:
The machine has been designed in response to the increasing demand for a solution to this problem in the Scandinavian market. Although it is a new concept, this concept is not that special. It is the implementation of a dry vacuum machine filter technique on a liquid vacuum machine. As a result, cooling water / service water that is used in other liquid trucks is simply not needed.
An ideal solution for the Scandinavian industrial cleaner!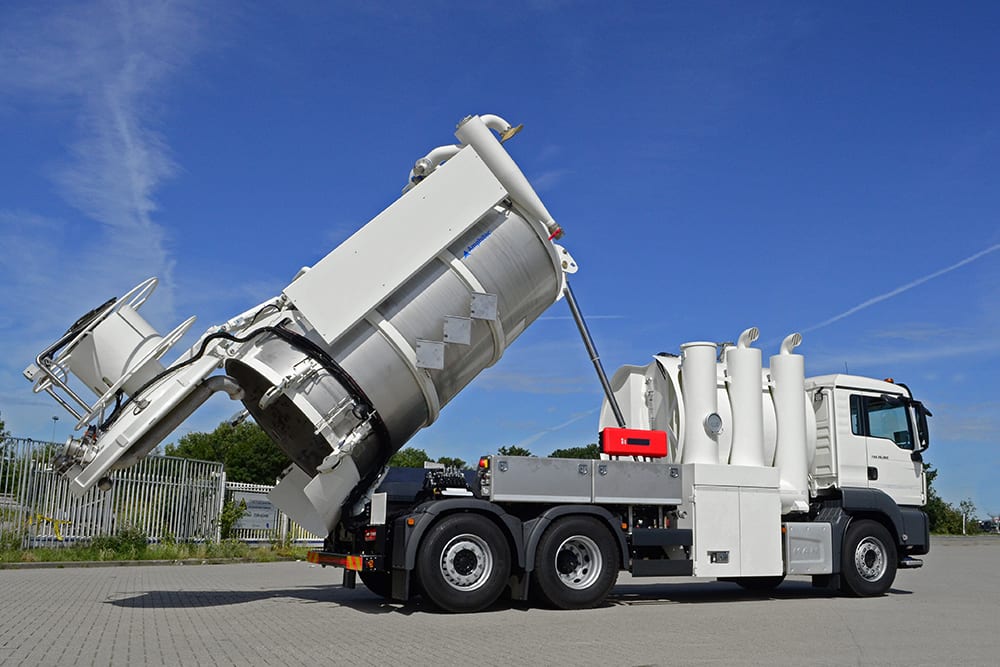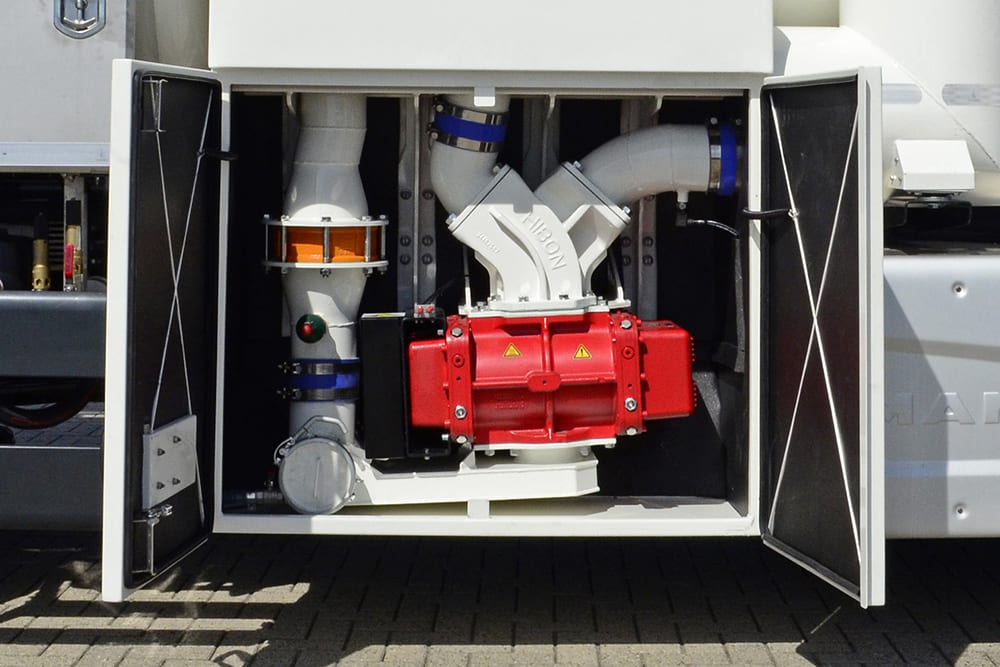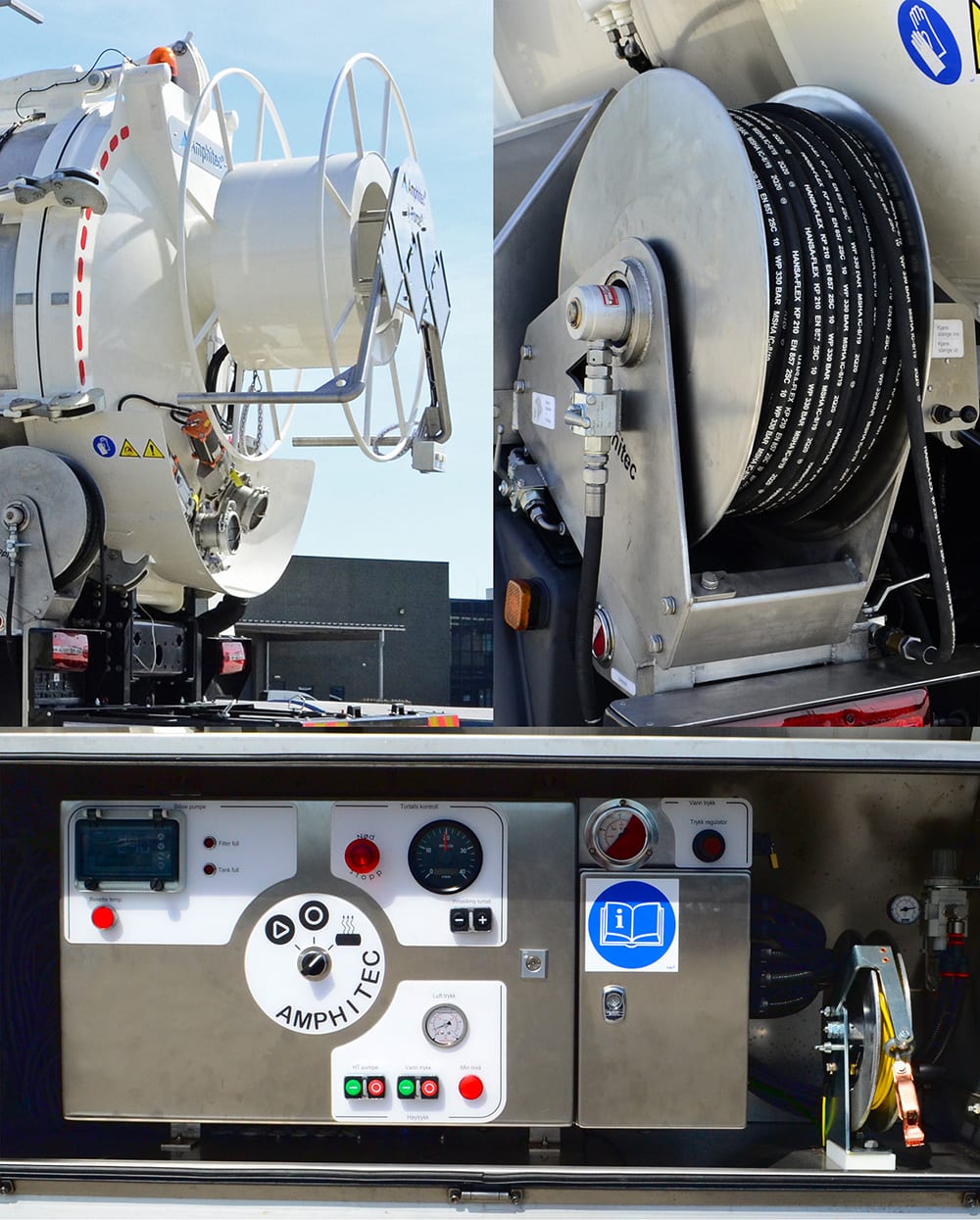 > More information about the Amphitec V-Force?Click HERE